​Yorkshire gin map: distilleries and brands
Yorkshire gins: find them here
There are dozens of companies now making gin in Yorkshire. Some, like Masons, York Gin and Slingsby, are winning the highest international awards.
All three companies have recently won the coveted Gold Outstanding medal at the International Wine & Spirit Competition – recognition that some Yorkshire gins really are among the best in the world.
Across the whole White Rose county, gin makers are creating brands and products that resonate with drinkers. Yorkshire really is becoming a force to be reckoned with in the gin world.
Most Yorkshire gin companies make their own gin in their own distilleries. Some have created brands – and get others to make their gins.
Some offer distillery tours and gin schools, where you can learn about gin and even make your own to take home. Hothams Gin School in Hull recently won a Visit England Awards for Excellence silver medal.
The gin scene in Yorkshire is certainly thriving – with enough going on for a gin lover from elsewhere to come here for a tour of several gin makers!
If you want to read more, or know someone who'd love to know more, try to get a copy of Fiona Lang's excellent 2020 book, Yorkshire Gins.
Take a look at our Yorkshire Gin Map - to see who's doing what, and where.
Gin shops too
Yorkshire isn't only home to some brilliant gin brands – its gin shops have made world headlines.
The Evil Eye gin shop in York has won the world record for 'most variety of gins commercially available' – at over 1,000.
Meanwhile, the York Gin shop caused a furore in the national and international press, radio and TV with its ban on tacky Christmas songs. The fact that it sells some of the world's best gins also helps trade!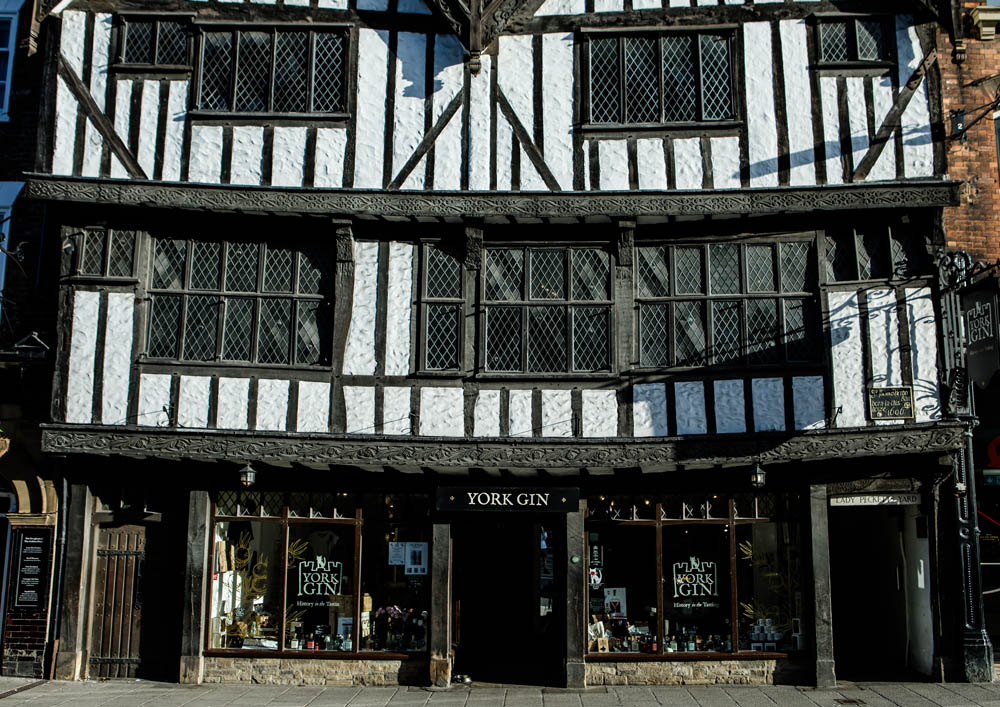 Yorkshire tonics
Yorkshire also has two companies making tonic water:
Raisthorpe Yorkshire Tonic Waters. Instead of quinine, they use quassia – a South American botanical. Their tonics only include natural ingredients.
Gascoigne's from Haworth in West Yorkshire have a large range of flavoured tonics including Blackcurrant & Liquorice, and Strawberry & Vanilla Sours
Yorkshire gin companies
City of York
North Yorkshire
Captain Cook Distillery
A micro-distillery in the market town of Stokesley - near Captain Cook's childhood home.
Raisthorpe Manor
Distillers of gin, liqueurs, vodka, other spirits and tonics in Wharram.
Whitby Gin
This is a lovely little company making award-winning gins and with fantastic sustainable future plans.
Slingsby
Harrogate-based with a beautiful shop and gin school - have won lots of awards and are doing brilliantly.
Yorkshire Dales Distillery
Based in the market town of Richmond, this fabulous company has put social responsibility at its heart.
Harrogate Tipple
Has its HQ at the beautiful Ripley Castle Estate, Harrogate.
Masons
A real Yorkshire success story, its iconic range includes the award-winning Yorkshire Tea edition. Now based at Leeming Bar.
Rare Bird
This distillery is in Malton, the 'food capital' of Yorkshire. Has its own gin school and onsite shop.
Sing Gin
This is a family-run gin company from the village of Kettlesing, deep in the beautiful Yorkshire Dales.
Downton Abbey
These official Downton Abbey gins are made by the Harrogate Tipple Company in Harrogate.
Sloemotion
This distillery in Barton-le-Willow near Malton makes gin, liqueurs and other spirits. A relative old hand, established in 2002.
Spirit of Masham
This company runs a great gin experience as well as making their own gin. It grew out of the Corks and Cases wine merchants.
Cooper King
A self-built sustainable distillery at Sutton-on-the-Forest creating not only gin but also Yorkshire whisky.
Whittaker's
A husband and wife team set this distillery up in Nidderdale. Another Yorkshire gin maker moving into whisky distilling.
Spirit of Swaledale
At over 1,000ft, the distillers at Greenses Farm, Upper Swaledale say they get a great view while making their gins.
Taplin & Mageean
This distillery occupies 200-year-old buildings on the platform of Leyburn station in the Dales.
J P Adlam
A tiny distillery in the Yorkshire Dales.
Black Sheep
The famous beer makers have recently started to market a London Dry gin.
Bar Walls
A small company whose gins are made by the Yorkshire Dales Distillery.
Cotton Gin
A gin made at the Otterbeck Distillery, an old cotton mill in the Yorkshire Dales.
Lickerish Tooth
A distillery in Lythe that was previously a metalworks. Its eye-catching products include Sheep's Eye Gin.
Priory Gin
A spirits company that also makes vodka and rum. Based on a farm between Tadcaster and Wetherby.
Yorkshire Explorer
Another gin company in the Yorkshire Dales.
West Yorkshire
Forged In Wakefield
This company makes a range of organic gins.
Crafty Fox
Made by the Harrison Distillery in Huddersfield.
Haworth Steam
Small batch distillery that also makes tonic water in the village made famous by the Bronte sisters.
Artful Pour
A company based near Leeds & Bradford airport.
Divine Gin
Award-winning company based in Last of the Summer Wine country, Holmfirth.
Speights Gin
An award-winning gin created in a garden shed distillery in Northowram.
Leeds Gin
Recently bought by True North Brew Co.
Jacqson
A gin company run by a mother and son team in Huddersfield.
White House Gin
A distillery on the banks of the River Wharfe in Otley.
South Yorkshire
Sir Robin of Locksley
Named after local folk hero, Robin Hood, this Sheffield distillery is a favourite among gin experts.
Sheffield Dry Gin
Owned by the True North Brewing Co who also own Leeds Gin.
Assay Gin
Made at the Commercial Inn in Sheffield's Chapeltown.
East Yorkshire
Hothams
As well as distilling their own gins, they run an award-winning gin school in the centre of Hull. Also now in Leeds.
Humber Street
A pub with a gin distillery inside, in the Fruit Market area of Hull.
Northern Fox
Another Hull gin company whose range has won several international spirits medals.
King Billy
A company inspired by King William III - credited with introducing gin to England. Also make Beverley Gin.
Hooting Owl
Distillery based in an old coaching house in Barmby Moor. Make Evil Gins for York's Evil Eye gin shop.
Mill House
A company that makes Kingtree Gin based in Cottingham.
Cartwright and Butler
A luxury hamper and gift company who have moved into the gin trade. Make Afternoon Darjeeling Infused Parlour Gin.