York Gin launch rhubarb gin on fifth birthday
By popular demand, York Gin has launched a rhubarb gin - as the brand celebrates its fifth birthday.
Customers have been asking for this flavoured gin for years. And now it has appeared - just as the York Gin brand reaches its five-year milestone.
Buy a bottle of rhubarb gin
See the full flavoured gin range.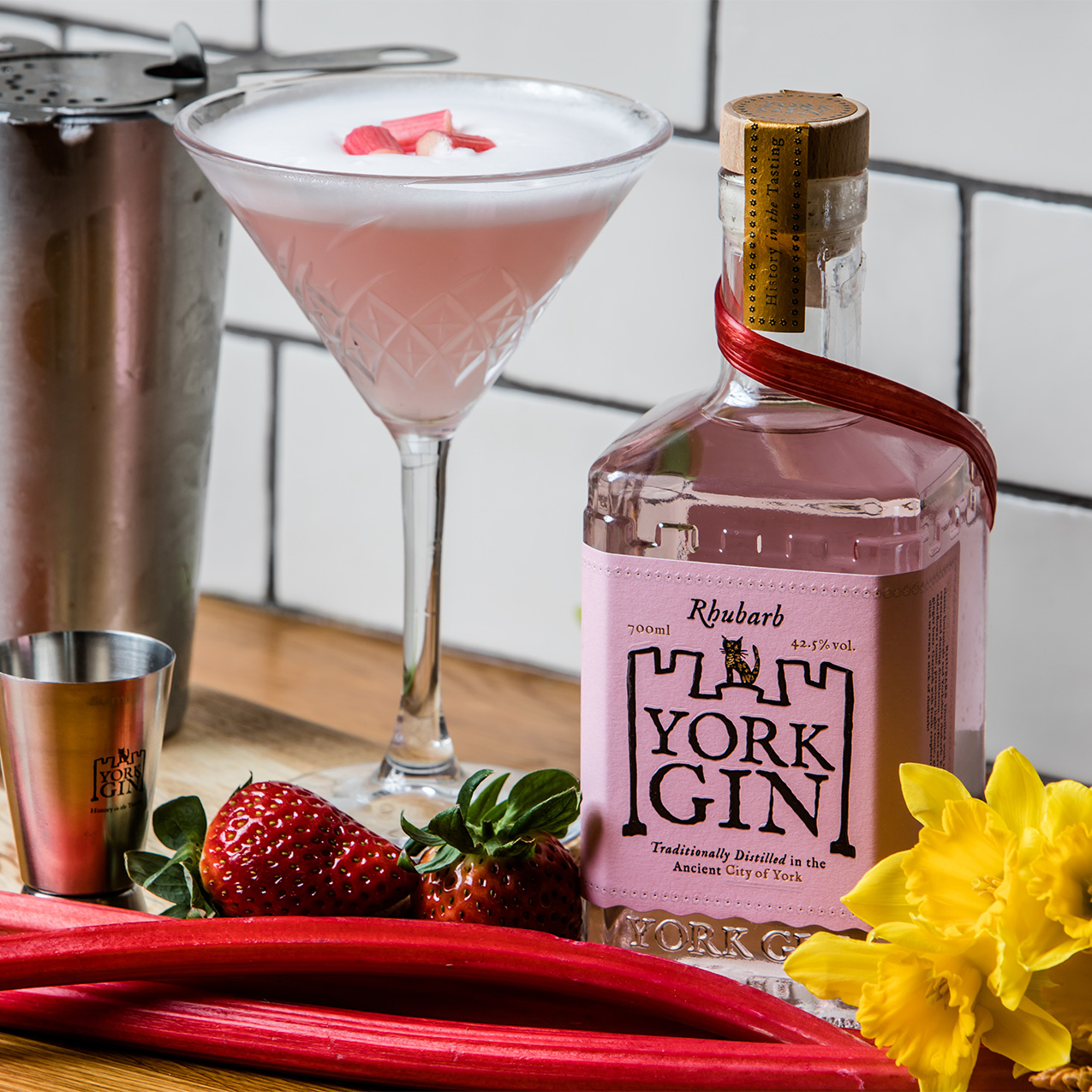 The gin has seven classic botanicals including juniper berries, grains of paradise and angelica along with the all-important fresh rhubarb. After distillation a natural sugar syrup is added to complement the natural tanginess of the rhubarb.
Says co-founder Emma Godivala: 'So many customers have asked if we'd do a rhubarb gin that finally we've caved in to mark York Gin's fifth birthday.
'Rhubarb is a quintessential English flavour. And the Yorkshire Rhubarb Triangle is world-famous for its technique of growing forced rhubarb indoors and picking it by candlelight to protect the delicate stems.
'We've worked incredibly hard to ensure this is a really top class addition to the rhubarb gin category. We advise you to mix it with a premium light tonic, an elderflower tonic or a ginger ale or ginger beer. Rhubarb and ginger is a classic combination - and York Gin Rhubarb and ginger is a winner.'
Available from the York Gin shops - at Thomas Herbert's House on Pavement (opposite Shambles) and in the railway station and online here. Price £42 for a 70cl bottle.
Flavoured Gins Collection
It joins The York Gin Flavoured Gins Collection
This includes permanent gins in the range:
A very short history of rhubarb
Rhubarb is mentioned by the Romans as an antidote to many ailments - we like to think of the Roman garrisons in York (or rather Eboracum) eating rhubarb here!
In the first century AD, Dioscorides the Cilician describes its medical use among the legions in his De Materia Medica. It was imported from east of the empire but was traded within it.
The Romans knew it as R(h)eubarbarum. Pliny the Elder called it 'rhacoma', arguing it was useful for colds, liver, kidney, and spleen complaints as well as cramps and convul­sions. He said it was also useful for treating wounds and bruises.
The nitrogen rich soils and cold wet climate are ideal for growing rhubarb. In the 19th and early 20th century, special trains left Yorkshire each night to supply the old Covent Garden Market in London.
More recently, in 2010, Yorkshire Forced Rhubarb was awarded Protected Designation of Origin (PDO) status by the European Commission. This puts it on a par with Parma Ham, Stilton and Scotch whisky.
More gin-fo to help you get the most from your gin
How to choose the best gin for you
What is gin and what are the different types of gin
A short history of gin and the G&T
Which glass should I use for my G&T