Best Christmas gin: Perfect Xmas tipples
Which is the best Christmas gin?
York Gin Spiced Apple was very popular in 2022 and York Gin Chocolate & Orange is always a Christmas favourite - inspired by York invention, the Terry's Chocolate Orange, the taste of Christmas.
Buy York Gin Chocolate & Orange
These were part of our Flavoured Gin Range - these gins are becoming increasingly popular:
Our Mediterranean Lemon is also a real hit.
Here's what we said about the launch of the spiced apple gin,
We have launched a limited edition festive gin which is 'the traditional taste of Christmas'.
York Gin Spiced Apple's botanicals include cinnamon, cloves and ginger as well as 'Glory of York' Ribston Pippin apples. We don't like to boast - but it's really, really lovely, and captures the spirit of Christmas perfectly!
The dry gin is inspired by the mulled drinks (originally known as wassail) drunk during the festive season for centuries past.
Our co-founder Emma Godivala said: 'This gin is so evocative of centuries of Christmases past. The cinnamon, cloves and ginger are an intrinsic part of mulled drinks, enjoyed for centuries at Christmas. Apples were traditionally part of wassail - as well as being the precursors to the modern baubel.'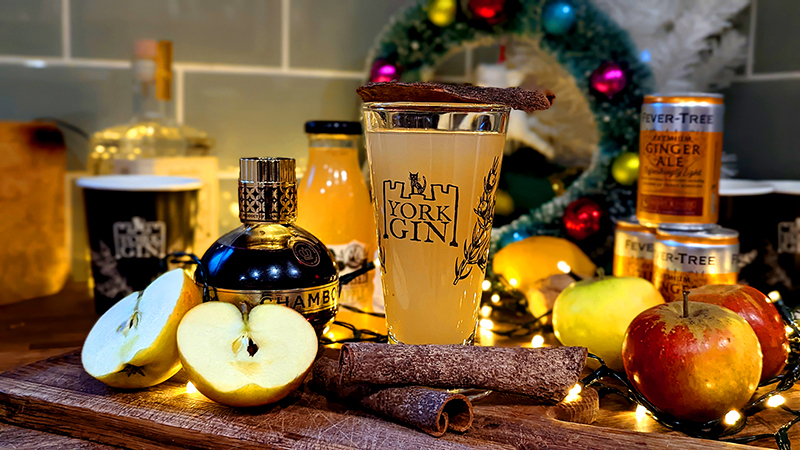 The new gin makes fabulous festive cocktails - including warm brambles.
York Gin's motto is 'History in the Tasting' - all our gins are inspired by York's 2,000-year past and English gin's hundreds of years of legends and traditions.
Emma added: 'York is one of the UK's most Christmassy cities - St Nick's Market was ranked in the top five Christmas markets in the world this year. So we love the festive season in York. And the city is packed with people enjoying the atmosphere - many of them walking around with a mulled wine or mulled gin in hand.
'The brand new flavour joins York Gin Chocolate & Orange as a second festive gin. The Terry's Chocolate Orange was invented in York and made here for decades. So that has a great historic story too.'
Christmas Gin: York Gin Spiced Apple
More gin-fo and helpful articles
Which glass should I use for my G&T
What is gin and what are the different types of gin
How to choose the best gin for you
Gin activities that don't damage your liver
When and what is World Gin Day?